Case Study: University of kentucky fan base
Mobile app covering news & trends for Kentucky sports fans
Challenge
The College Fan Base LLC© is a digital aggregator (based in Louisville KY) on a mission to connect college sports fans all across the country with complete news & trends coverage on their favourite teams. In addition to their website containing every program under one roof, The College Fan Base LLC© wanted to create individual team mobile apps such as The Kentucky Fan Base in order to isolate some of the premier programs.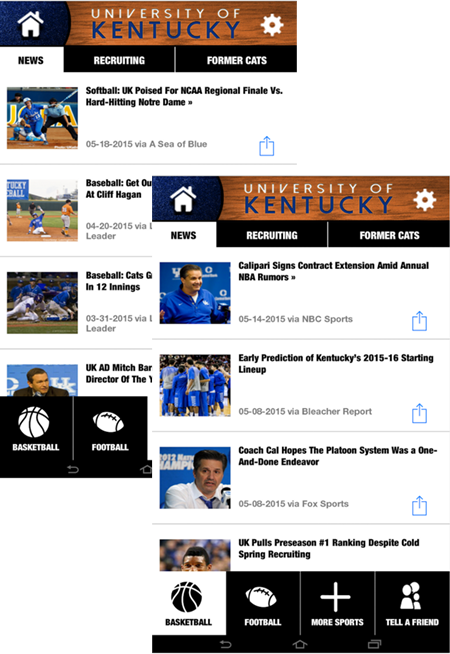 Process
Like good spring water, news is best from the source. That's why The College Fan Base LLC© don't create content. They simply connect fans to the best that's already out there. The goal was to prevent fans and professionals from scrolling aimlessly through social media trying to find the latest buzz. For that The College Fan Base LLC© wanted the app to be very intuitive, quick and engaging for sports fans. These were some of the build-areas required to develop this app.
Key Build areas
WordPress CMS with REST + JSON API to link to the mobile app
Mobile App interfaces
Notifications and alerts
App settings
A well sketched out mobile app using solid UI and UX principles was the need of the hour as this would be the foundation for future apps to be launched for other colleges.
The first step involved creating wireframes and UI for the following screens:
Login screen including registration and social media login
News feeds – Basketball, Football and Other sports
News story screen
Tell a Friend
Settings
After brainstorming the wireframes and making essential design changes, the concept went into development for both the iPhone and Android platforms. A back-end portal was also built that facilitates The College Fan Base LLC© to curate and feed news articles into the WordPress website, as well as the mobile apps. Several features were incorporated in the app that would allow users of the app to easily share the app itself using the "Tell a friend" feature or share a news story via social media or sms. Advance settings were also built where a user can select the type of notifications they would like to receive (type of sorts, sound/vibrate etc.).
Finally the iOS and Android app were put through several rounds of thorough testing for bugs and usability before they were submitted to the respective app stores for approval. The submission process included optimizing content, keywords, images etc. for the app to show up when someone is looking for apps related to the University of Kentucky's sports teams.
Results
The first of the set of iOS and Android mobile apps were launched for the University of Kentucky that would allow current top sports news from sources all across the web delivered right to your fingertips. From comprehensive recruiting updates to the latest on former players, the Kentucky Fan Base app would become the go to source for comprehensive stories and information for people on the go.