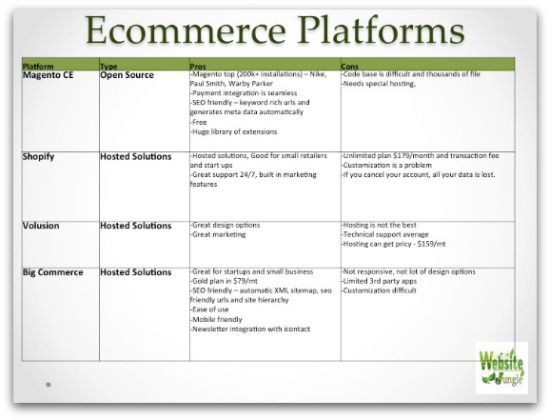 With so many choices available, how do you select the best ecommerce platform that suits your business needs? This depends on how much control you wish to have over your online business and how much online growth you anticipate. Think beyond your current business reach and consider things like international expansion and mobile commerce.
There are 3 main types of ecommerce platforms:
Open Source
Open source platforms are free to download and use. Magento is the most popular open source ecommerce platform solution. Other examples include osCommerce, OpenCart, SpreeCommerce, PrestaShop, VirtueMart, Ubercart, Zuescart, AFCommerce, Zen Cart, Simplcart js, Tomato Cart, CubeCart, RockQuickCart, StoreSprite. The popular open source platforms have a strong user community, which can be beneficial for providing answers to questions. The downfall is that there is no customer support.
Custom
Custom build sites require a large budget and retention of adequate developers and IT staff to build the site and provide ongoing maintenance support. If there are any bugs or the site crashes, hiring a contractor to fix it can be an added cost. But once the site is built, you own it. There are no other licensing or monthly fees to be paid. You control the exact features and functions offered by your platform and how often it is updated.
Hosted
If you are looking for a low maintenance ecommerce platform that can be easily and quickly deployed, a hosted option may be a good choice. Many of the open source platforms listed above offer a hosted and enterprise version. With a hosted platform, you pay a monthly fee and can be up and ready to go within 30 minutes or less. A hosted solution is an attractive option for small business. Examples of hosted solutions are: Shopify, BigCommerce.
Some factors to consider when selecting an ecommerce platform:
1. What is the budget?
2. What will you be selling?
3. How many different products will you have?
4. What encryption tools and security features will you need?
5. How customizable is it?
Here is a short video clip from one our recent workshops on ecommerce platforms: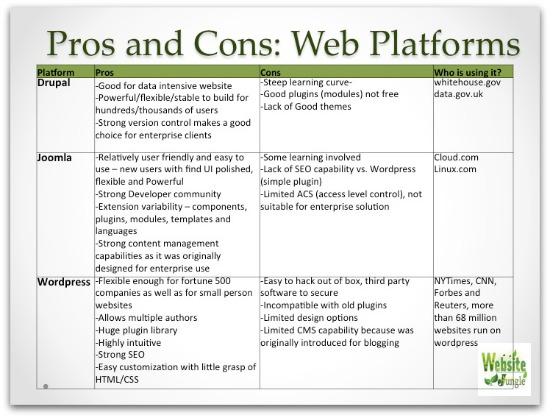 Before you can begin to develop a website or redesign an existing website you need to decide what platform to use. What is a platform? It is the underlying programming language that the site will utilize. The platform you select will have an impact on the site's functionality, development costs and ongoing maintenance.
Platforms can be either open source or custom built.
A platform that is open source is based on open source software. This means the source code is readily available for modification or enhancement by anyone. Examples of open source content management systems (CMS) include: WordPress, Joomla and Drupal.
A custom built site is hand-coded in HTML web-programming language.
To make the right choice, let's discuss the pros and cons of each choice.
Open Source
Pros:
• Structure of the website is pre-built and plugins are available, making it easy to add new functionality.
• Easy to for the non-technical user to manage and make changes as the back-end is user friendly and in most cases it just requires you to add content.
• The basic platform is free.
Cons:
• Need to monitor and keep abreast of new versions and security upgrades when they come out.
• Since it is open source, these platforms are slightly more prone to hacking.
• Requires advanced knowledge of coding to customize (php/my sql).
Custom Built
Pros:
• Can be tailor-made to suit specific needs of user experience, layout, colors and overall personality.
• More secure in general.
• Can be made lean and focused, avoiding a "one-size-fits-all" approach.
Cons:
• Can be expensive and time consuming to build.
• Additional structuring is required to make it SEO friendly.
• No plugins are available – everything must be built from scratch.
• Now you are ready to make the right choice!
Here is a short video clip from one our recent workshops about the pros and cons of each website platform.
The digital age has changed the way entrepreneurs and business owners market goods and services. In the past, business owners would open a store and hope that it attracts customers. They may invest in direct mailers, radio ads or even TV commercials, but this style of "push" marketing is not very efficient and can be costly.
In today's world, consumers are using search engines, social media, online reviews and referrals to search for specific products and services. If your business is not found when consumers are searching, that is a potential loss of revenue. It is important to have a robust and strategic online marketing strategy.
Focusing on the following key components can help fuel business growth and take your business growth to the next level.
Content Strategy
Companies that blog tend to get more visitors to their website then companies that don't. Therefore, your website should include an integrated blog that provides your customers with relevant and quality information about your industry niche.
• Establish a monthly blog calendar and publishing schedule. At minimum, publish a new blog post twice per month.
• Make it easy for your readers to subscribe to your blog and if possible provide them an incentive to sign up (coupon code, a downloadable free report)
• Use your blog content to share on social media channels and drive traffic back to your website.
• Share blog content with your network via a monthly newsletter.
Optimized Website / E-commerce
Ensure your website has a clean professional look and is easy to navigate.
• There should be clear call-to-actions on several webpages, so that your customers can continually think about what your company can provide for them.
• Add relevant key words and phrases on each page to ensure that it is found by search engines
Mobile / Cross browser friendly
Ensure that your website is optimized on all browsers, smart phones and tablets. In 2013, 17.4% of web traffic has come through mobile, representing more than 6% increase since 2012.
SEO
You must use search engine optimization techniques to help your website, blog and social media accounts rank higher in search engines.
• Use Google AdWords Keyword Planner to research specific key words and evaluate their competiveness
• Utilize these key words in your website and social media posts
• Ensure your meta description for each page is unique and less than 155 characters
• Ensure that the title of each webpage is unique and meaningful
PPC
Paid Search (PPC) is the process of gaining traffic by purchasing ads on search engines results page (SERP) when someone types a specific keyword or phrase in the search engine. Google Ad Words is the most popular paid search tool.
Social Media
Having a strong social media presence has many advantages for a business.
• It gives you an opportunity build an online community and foster real-time communication and engagement with people who are interested in your business
• The viral nature of social networks allows you to reach exponential numbers of people at minimal cost.
• It allows you to share direct links to your website which leads to a higher ranking in search engines.
Analytics
It is important to monitor and measure the results and trends of your website, blog, email campaigns and social media activity.
Some important metrics that you should pay attention to:
• Website: site visitors, page views, pages per visit, time spent on site, bounce rate
• Blog: subscribers, views, visits, comments, back-links, social media shares
• SEO: # of inbound links, #key words sending traffic to your site, # of indexed pages, page rank
• Social Media: # of likes, repins, retweets, shares, conversations, engagement
Here is a short video clip from one our recent workshops on Online Marketing Strategies: