As a medical professional, you need a website that is specific to your industry and your patients. We offer custom packages that cater to the healthcare industry. Our medical websites provide you with cost-effective tools that help you to manage your business online and provide value-added benefits and resources to current and prospective patients.
Medical Website Design
Custom website design, including: color scheme, page template layout, skin and navigation
Medical branding
Fully optimized for search engines and user friendliness
Site map
Graphics and rich media development related to your field and area of expertise (i.e. Flash animation, video, etc.)
Web-Based Patient Tools
Secure patient portal
Online patient forms and appointment setting
Referral system and tracking
Educational tools, including: white paper downloads and FAQs
Medical Search Engine Marketing
Keyword strategy, website evaluation and recommendations
Geographic search ranking reports and traffic analysis
Google AdWords search campaigns
Lead generation and email campaigns
Data collection through customizable forms
Maintenance and Support
Hosting service guarantee of 99.9% up-time
Secure Intranet with log on capabilities
Domain name registration
Email set-up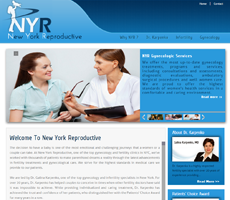 Technology: HTML5/Javascript
Company Category: Medical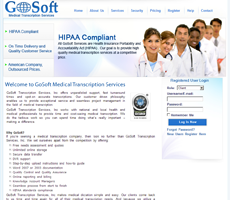 Technology: HTML5/Javascript
Company Category: BPO
Designed properly, your website can help:
Reduce No Shows – According to the MGMA (Medical Management Association), the average missed appointment rate is between 18-22%. This translates into an average loss of revenue of $138,000 per practice/per year, due to missed appointments alone. If your website can bring in just one patient a month that would have otherwise missed their appointment, the system pays for itself.
Fill Cancellations – In just a few seconds, your website can send an auto notification to patients on a waiting list for an open appointment. Patients receive real time alerts and know that let them know you are serious about receiving their business.
Attract New Patients – The majority of consumers research doctors and dentists online before choosing a healthcare provider. With a properly designed medical website, you'll be able to reach a much broader audience that you would with traditional methods, such as Yellow Pages listing.
Reach Lost Patients – With our proprietary ReCare system, you're able to send patients messages about follow-up appointments and continuing care, resulting in a higher customer retention rate.
Decrease Operating Costs – The average practice spends roughly $200-300/month on appointment reminder and greeting cards. Our Smile Reminder program replaces this direct cost with automated messages that have a personal touch.
Increase Patient Loyalty – Keep patients informed about new promotions and procedures by sending instant web notifications about products and services. These alerts will link back to your site, providing additional information and inviting client feedback. They'll also help to increase awareness of your business.

Our process starts with a free consultation with one of our experts. We'll work with you to build and develop a medical website that is professional, easy to use and simple to update. You can choose to manage it yourself, or leave that responsibility to us. Contact us today to get started.